Eufórquestra @ Schmiggity's
March 15 @ 10:00 pm

-

1:30 am

$10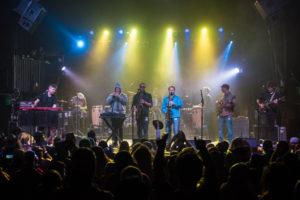 Eufórquestra (pronounced yoo-FOHR-keh-struh, think euphoria+orchestra) is energy and rhythm personified. An ever-evolving sound that has been influenced by music from all over the world with an emphasis on funk, pocket and groove. For over a decade the band has been igniting dance floors across the country, blending the roots of funk, soul, afrobeat, reggae and dub to create a sound that "explodes, dances and melts in your ear with sheer bliss" (Chris M. Slawecki; AllAboutJazz.com).
Eufórquestra's fifth full-length record, FIRE, was produced by Kyle Hollingsworth (of The String Cheese Incident) and captures the passion and musical maturing of these road warriors. Over the course of 14 tracks, the band takes you on an hour-long adventure that will touch your heart and mind, and keep your fingers and toes tapping. A handful of special guests, including Elliot Martin (John Brown's Body), Gabriel Mervine and Kim Dawson (The Motet) and Mr. Hollingsworth himself, put their own touches on the band's already cohesive sound that is "tight and engineered to a fine, funky precision." (Jeremy Frazier; Chicago Jam Scene) The result is a record that is distinctly modern, maintaining one foot in the future and firmly planting in the musical roots traditions of the past.
With almost 1,000 shows under their belt, Eufórquestra shows no sign of stopping. A perpetually heavy tour schedule keeps the band and fans happy, as performing live in front of an audience has always been the band's top priority. As noted in a live show review by Grateful Web, "…the boys seem to play like the apocalypse will happen at any second and they want to die doing what they do best…"
There is always something going on every night at Schmiggity's:
Sunday – Latin Dance Night at 7 pm (FREE Salsa lessons at 8 pm with Scott Goodhart)
Monday – Piano Bar Night at 7:30 pm with Mike Martinez & Power Hour 11-12 pm ($3 WELLS)
Tuesday – Two Step Tuesday at 7 pm (FREE Country Dance Lessons 7:30 pm with Amanda Leftwich) & Power Hour 11-12 pm ($3 WELLS)
Wednesday – Karaoke at 9 pm.  Karaoke, Costumes and Fun!
Thursday – Schmiggity Jam/Live Band Karaoke at 9:30 play or sing along with a live band.
Bands every Friday and Saturday at 10 pm.
Steamboat's only Happy Hour from 7-9 pm with $3 Wells, Beers & House Wine
New to the Menu:  White Claw & ½ Bottles of Wine!