Head For The Hills @ Schmiggity's
February 2 @ 10:00 pm

-

1:30 am

$10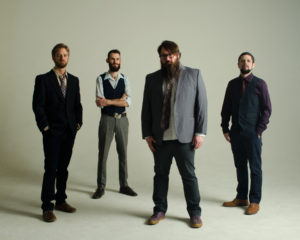 Head for the Hills prides itself on defying expectation, turning neophytes into converts and genre purists exploratory listeners. Remaining true to the roots of bluegrass while simultaneously looking to it's future prospects, the band makes music that reaches into jazz, indie rock, hip hop, soul, world and folk to stitch together cutting edge songs that bridge the divide between past and future acoustic music. More than a decade in and after thousands of miles, hundreds of performances, a handful of independently released records, 4 times awarded Best Bluegrass in Colorado, and one new mandolin player–Head for the Hills is at their absolute peak, firing on all cylinders and winning the hearts and minds of audiences everywhere they go.
There is always something going on every night at Schmiggity's:
Sunday – Latin Dance Night at 7 pm (FREE Salsa lessons at 8 pm with Scott Goodhart)
Monday – Piano Bar Night at 7:30 pm with Mike Martinez & Power Hour 11-12 pm ($3 WELLS)
Tuesday – Two Step Tuesday at 7 pm (FREE Country Dance Lessons 7:30 pm with Amanda Leftwich) & Power Hour 11-12 pm ($3 WELLS)
Wednesday – Karaoke at 9 pm.  Karaoke, Costumes and Fun!
Thursday – Schmiggity Jam/Live Band Karaoke at 9:30 play or sing along with a live band.
Bands every Friday and Saturday at 10 pm.
Steamboat's only Happy Hour from 7-9 pm with $3 Wells, Beers & House Wine
New to the Menu:  White Claw & ½ Bottles of Wine!