Mikey Thunder with MVTTV @ Schmiggity's
August 24, 2019 @ 10:00 pm

-

1:30 am

$10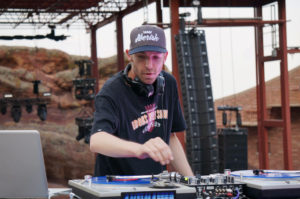 Tickets:  $10
Venue : Schmiggity's Live Music Dance Bar
Mikey Thunder likes to party. But more than that, Mikey Thunder just so happens to be the party. Thunder spins a genre-blending, bass-driven partyrock, fusing banging electronic beats with funk, hip-hop, soul, jazz, blues, swing, reggae and anything else the party may call for on the fly. With 19 years in the game, he's mastered the art of improvisation with an uncanny ability to work with and rework the vibe of the party with precision. If youre a true connoisseur of the Colorado music scene, youve seen Mikey share the stage with any number of your favorite artists- no matter the genre.
It all began for Mikey at the age of 15 when he discovered DJing in Springfield , Mass. Thru friends older brother's record collections and the Hiphop scene in the city. From there he moved up to Burlington Vt. and immersed himself in the diverse musical culture. In the fall of 1999, he relocated to the mountains of Jackson Hole where he was soon kidnapped by Michael Franti and Spearhead for the Stay Human Tour. After opening for Spearhead in Jackson Hole, Thunder was handpicked by Michael Franti to open the rest of the tour, where he mixed beats into their sets, during set break, and scratched with their beatboxer, Radioactive.
After the Spearhead tour Mikey relocated to Boulder and continued to pursue his musical career. At that time Thunder also was an Atari playing stuntman/ DJ in the band Sonar. The band shared the stage with the Wailers at the Winter Olympics in Salt Lake City, the String Cheese Incident, and played Hightimes Magazines SXSW party, and the Cannabis Cup in Amsterdam. In the fall of 2009 Mikey joined the Pretty Lights crew, opened for over 30 shows on their tours and performed cuts on the Making Up a Changing Mind EP, released in 2010. He also has played the sold out Red Rocks Amphitheater runs with PL in 2012/13/14.
Since that time, he has made his presence known in every single facet of the Colorado music industry. Over the years he has shared the stage with an extremely diverse range of musicians, including (but certainly not limited to): Bassnectar, The Glitch Mob, The Disco Biscuits, Boombox, Soul Live, Lettuce, The Motet, Michal Menert, Nightmares on Wax, Mr. Scruff, DJ Krush, Bonobo, Z Trip, DJ Qbert, Pete Rock, DJ Premier, Jurassic 5, Slick Rick, Method Man, Raekwon, Ghostface killa, Red Man, Juicy J, and Big Boi of Outkast. Additionally, he has been prominently featured on such festivals as Shambhala, Sonic Bloom, Snowball, Global Dance Festival, and many others.
Mikey Thunders true talent lies in his versatility. Every Thunder performance presents something familiar in an entirely unfamiliar way, as well as something unfamiliar presented in a way that is immediately recognizable as Thunder.
There is always something happening at Schmiggity's
Sunday – "Swinging" Sunday followed by  Late Night Latin Dancing from 7 pm – 10 pm (FREE Western Swing Dance Lesson at 7 – 8  pm with Scott Goodhart) Followed by late night Latin Dancing from 10 pm until 2 am.
Monday – Piano Bar Night at 8:30 pm with Mike Martinez & Power Hour 11-12 pm ($1 WELLS)  starting 5/13
Tuesday – Two Step Tuesday at 7 pm (FREE Country Dance Lessons 7:00 – 8:00 pm with Amanda Leftwich & Power Hour 11-12 pm ($1 WELLS)
Wednesday – Karaoke at 9 pm.  Karaoke, Costumes and Fun!
Thursday – Schmiggity Jam/Live Band Karaoke at 9:30 play or sing along with a live band.
Bands or DJ's Friday and Saturday at 10 pm.
Steamboat's only Happy Hour from 7-9 pm with $3 Wells, Beers & House Wine
New to the Menu:  White Claw & ½ Bottles of Wine!