SuperMagick (Formally Filthy Children) @ Schmiggity's
February 9 @ 10:00 pm

-

1:30 am

$10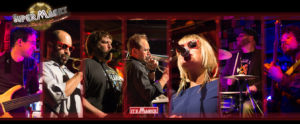 Based out of Denver, Colorado, Super Magick (formerly Filthy Children) first hit the stage together in Nov, 2003.
Funk. Soul. Disco. Flashes of city streets, Rocky Mountain peaks, a distant bayou. Lights. Bodies. Sweat. Unrelenting gut-punching rhythm. Ecstatic musical adoration of life. A blooming, buzzing room where beautiful bodies bear funky-witness to the Super Magick dance-party experience! Take it in. Three buttery horns, a smokin female vocalist, drums, bass, guitar, and a smattering of analog synth burbles to fill the spaces. It's magick; believe it.  Come celebrate Winter Carnival late night with us!
There is always something going on every night at Schmiggity's:
Sunday – Latin Dance Night at 7 pm (FREE Salsa lessons at 8 pm with Scott Goodhart)
Monday – Piano Bar Night at 7:30 pm with Mike Martinez & Power Hour 11-12 pm ($3 WELLS)
Tuesday – Two Step Tuesday at 7 pm (FREE Country Dance Lessons 7:30 pm with Amanda Leftwich) & Power Hour 11-12 pm ($3 WELLS)
Wednesday – Karaoke at 9 pm.  Karaoke, Costumes and Fun!
Thursday – Schmiggity Jam/Live Band Karaoke at 9:30 play or sing along with a live band.
Bands every Friday and Saturday at 10 pm.
Steamboat's only Happy Hour from 7-9 pm with $3 Wells, Beers & House Wine
New to the Menu:  White Claw & ½ Bottles of Wine!