The Commonheart w/ Good Strangers @ Schmiggity's
September 20 @ 10:00 pm

-

1:30 am

$10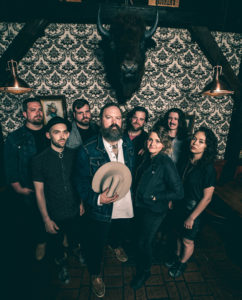 "This band is therapy for me to bring myself back to being a better person, and I hope people come along with me," says powerhouse singer Clinton Clegg of The Commonheart. The testimonial begins on August 16th when the 9-piece band issues its most potent and purposeful dose of grittily redemptive rock n' soul, its sophomore album, 'Pressure' (Jullian Records).
Clinton didn't grow up in a Baptist church, and his soul machine of a band isn't pushing religion. Live and in the studio, the Pittsburgh-based collective is offering feel-good positivity, Golden Rule messaging, and sweat-soaked performances that nimbly ease through blues, vintage soul, and rock.
The nonet is bonded by familial-like ties and a desire to foster spiritual uplift. Among its ranks are female backup singers, drums, bass, guitar, a horn section, and keyboards. Out front is Clinton, a lightning bolt charismatic front man with dynamically expressive pipes that effortlessly traverse bluesy pleading, and honeyed balladeering.
The Commonheart's latest album, 'Pressure,' is both rugged and refined. The 10-song album showcases raw-nerve soul musicianship pristinely recorded. It's an album by a band on a mission. "We are willing to take risks and to go at any lengths for this band," Clinton says affirmatively. "We are ready to spread positivity and make a stretch of this thing."
There is always something happening at Schmiggity's
Sunday – "Swinging" Sunday followed by  Late Night Latin Dancing from 7 pm – 10 pm (FREE Western Swing Dance Lesson at 7 – 8  pm with Scott Goodhart) Followed by late night Latin Dancing from 10 pm until 2 am.
Monday – Piano Bar Night at 8:30 pm with Mike Martinez & Power Hour 11-12 pm ($1 WELLS)  starting 5/13
Tuesday – Two Step Tuesday at 7 pm (FREE Country Dance Lessons 7:00 – 8:00 pm with Amanda Leftwich & Power Hour 11-12 pm ($1 WELLS)
Wednesday – Karaoke at 9 pm.  Karaoke, Costumes and Fun!
Thursday – Schmiggity Jam/Live Band Karaoke at 9:30 play or sing along with a live band.
Bands or DJ's Friday and Saturday at 10 pm.
Steamboat's only Happy Hour from 7-9 pm with $3 Wells, Beers & House Wine
New to the Menu:  White Claw & ½ Bottles of Wine!